Local History
Basque Immigration   
    A wave of Basque immigration to the western United States began with the discovery of gold in California in the middle of the nineteenth century. The traditional Basque custom of primogeniture which allows only one sibling to inherit the family farmstead maintained agricultural units intact, but left many individuals with the challenge of finding new ways to make a living. The attraction of California gold was irresistible for many young Basques. Once they arrived, however, they were often disappointed with what they found. Although few had experience with sheep in their native land, and sheep raising is radically different in the American west, these men found there was a demand for labor in the sheep industry.  Slowly these sheep outfits made their way north into Nevada, and from there into eastern Oregon and western Idaho in the 1890's.  Chain immigration was most common among Basques in which an immigrant found employment here for relatives and friends from his home area in the Basque Country. It is because of this chain immigration that we find most Basques from this area are of Bizkaian ancestry. While relatively few Basques are employed in the sheep industry today, that is what brought them to this area in most cases.    

The Echanis Boarding House was the location of some early meetings of the Ontario Basque Ladies Society and the club's first dance
The Echanis Boarding House
Basque immigrants Maria and Jack Echanis, both from Mutriku, Gipuzkoa, started out in the sheep business with Jack's brothers Ben and Joe on the Basque Ranch in Crane, Oregon.  Maria cooked for the crew who thought so highly of her cooking skills that they suggested she open a boarding house. Maria and Jack moved to Ontario and started a boarding house in 1922.  This first small establishment, however, burned down and the family built a larger house at the same location on North Oregon Street in 1930.  
Over the years the Echanis boarding house provided delicious Old World-style meals and a home away from home for Basque herders working in Malheur County, Jordan Valley and as far away as McDermitt.  In those days it was not unusual to serve thirty-four people at a time. Herders stayed at the boarding house during lambing or when they visited town to do business.  The Epiphany or Three Kings Day celebrated on January 6 was an especially festive occasion for the Echanis family and their boarders. 
In addition to providing a a comfortable home to herders when they visited town, the boarding house served an important social function on an everyday basis for local Basques.  Many couples met there, and many of the Ontario Basque Club's early meetings and first dance were held there.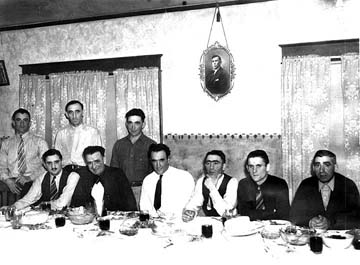 Dinner at the Echanis Boarding House in Ontario celebrating newly acquired U.S. citizenship in 1941. Standing left to right: Juan Plaza, Jack Echanis, Frank Jayo. Seated left to right: Anthony Yturri (teacher), Sam Gandarias, Joe Echanis, Juan Ybarzabal, Oscar Rosen, Genaro Plaza. The man in the picture on the wall was boarder Domingo Corta. Photo: Echanis Family Collection
Online Article from Euskonews: The Making of a Basque Community in Ontario: From the Boarding House to a Global Village